Who We Are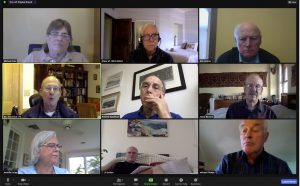 We are an ad hoc group of class leaders (see below) of the Yale Classes of 1967, 1968, 1969, 1970, 1971, 1972, and 1973.
Each class organizes events, but here, "on the back nine" of life, we recognize that our numbers are dwindling, sometimes below the threshold for a successful event.  The issue is already visible for specialized subjects, but events with broader audiences will succumb in time.
Friendships often span class-year boundaries: It's common to be friends with people a year or two ahead … or behind … your graduating class.  And, the generational glue that binds all of us who came of age in "the Sixties" makes sharing our events even more sensible.  So, "Yale Boom" is born, a group defined as Yalies who came of age during the counter-culture and the reactions to it; during psychedelia and the Nixon prohibition; during The Beatles; during racial unrest and anti-war fervor and Kent State and so on.  This generation of Yalies was different from the Brooks-Brothers-buttoned-down group that preceded us and the "proto-professionals" who came afterward.
What We Do
First, what we don't do:  We don't replace or supersede the structure and leadership of any Class.  We extend it.  We are not a centralized federation; we are a confederation of Classes that augments its programming with offerings from neighboring Classes.
Some organizing principles:
 All programs will have a single class as a "home."  Even if the broader group brainstorms and creates a great idea, nothing will happen until and unless ONE of the classes takes the lead.  The people working on the event can come from anywhere, but accountability is centered on the host Class.
If any Class event will allow non-classmates to attend, that event will be posted on this YaleBoom.org website and the other Classes will be notified by email of the invitation to the event.
The YAA will handle all emails and other mailings.
The Ad Hoc Committee
The steering committee is composed of "class leaders."  Initially, that means the Class Officers … but we hope that each class will spread the workload by deputizing interested classmates who are willing to participate in the planning and execution of events or programs.
So, if you want to be involved, contact your Class officers or use the "Contact Us" form to volunteer or ask any questions.
Current Committee: